Musical Shows: introduction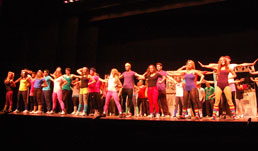 Three Musical Theater Shows realized by NEETS during the three pilot projects experience (implementations of Musicals, theater and dancing) let them be part of a group, find their space, be creative and protagonists of their growth. They help them interface with other young people, exchange and reflect over similar values (tolerance, cooperation, fair game). They can share and build together, express their fantasy, develop their creativity. Working together on a Musical also means to cater for competences and knowledge, to learn problem solving, to grow: it is a challenge.
Within the pilot projects experience, the selected youngsters for the experiment realized a new musical respectively in the 3 Countries, starting from the story they chose: own production of the performance. The performances concluded the project works and reflected the hard work and talent of our students.